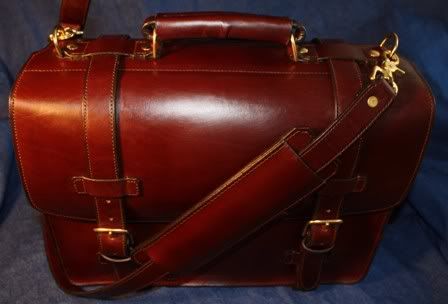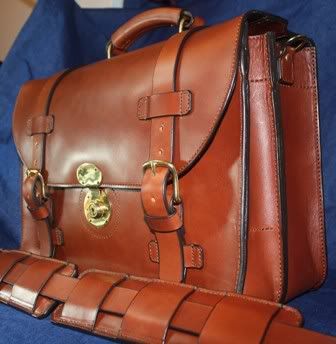 Walden Bags: What "American-Made" Was Always Meant To Be!
Currently available bags are frequently available at Etsy.com
Inspired by the natural philosophy of Henry David Thoreau, Walden Bags are handcrafted with an elegant simplicity.
Over 150 years ago, as the United States was rushing toward both industry and civil war, Thoreau wrote about the ways we rush to defer living for the possible prospects of a receding tomorrow. He could have written these words just yesterday:
"Still we live meanly, like ants; though the fable tells us that we were long ago changed into men; like pygmies we fight with cranes; it is error upon error, and clout upon clout, and our best virtue has for its occasion a superfluous and inevitable wretchedness. Our life is frittered away by detail. An honest man has hardly need to count more than his ten fingers, or in extreme cases he may add his ten toes, and lump the rest.
"Simplicity, simplicity, simplicity! I say, let your affairs be as two or three, and not a hundred or a thousand; instead of a million count half a dozen, and keep your accounts on your thumb nail. In the midst of this chopping sea of civilized life, such are the clouds and storms and quick-sands and thousand and one items to be allowed for, that a man has to live, if he would not founder and go to the bottom and not make his port at all, by dead reckoning, and he must be a great calculator indeed who succeeds. Simplify, simplify. Instead of three meals a day, if it be necessary eat but one; instead of a hundred dishes, five; and reduce other things in proportion."
Henry D. Thoreau, Walden, "Where I Lived, and What I Lived For."
Influenced and inspired by some of the best bag makers around the world -- Ghurka (when they still had the passion), Filson, Hermes, Orvis, Swaine Adeney Brigg, and Schedoni, just to name a few -- a Walden Bag is constructed like no other bag. Read the illustrated description below to see how Walden Bags is raising the standard through a philosophy of elegant simplicity manifest in every stitch, buckle, strap, and rivet.
---Double-Layered Main compression straps wrap around the entire bag and have been designed for strength, ease of maneuverability, and the securing of newspapers, magazines, umbrellas, parkas, etc.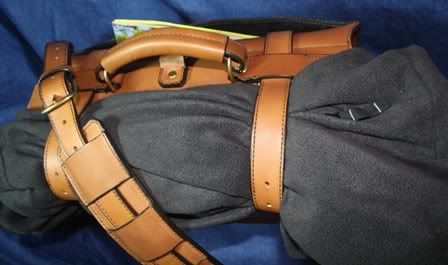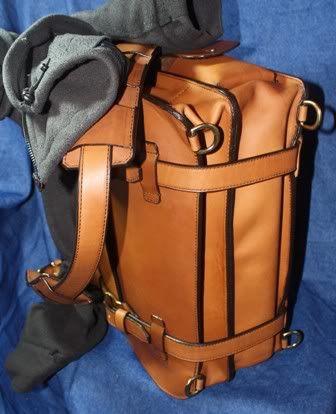 ---Heavy-Duty All-Leather handle has been designed both aesthetically and ergonomically for ease of carrying and a lifetime of rugged use. Unlike some manufacturers who use use synthetic material to build up a bag handle, Walden Bags uses all-leather construction that provides for smooth, comfortable carrying and conformity to the idiosyncrasies of an individual owner's hand and patterns of movement: plastic and rubber can't do this.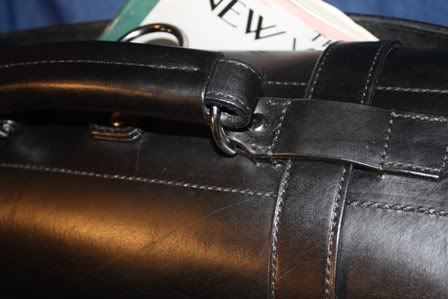 ---High-stress points around solid brass D-rings (not split rings, as on cheaper bags) have been reinforced with extra layers of thick, rugged cowhide, steel retaining clips, and hand saddle stitching with extra-thick UV-resistant thread (actually, small rope). On cheaper bags you'll see the overuse of rivets in place of quality stitching. Never on a Walden Bag. These heavy-use areas on a Walden Bag are artistically engineered to last a lifetime.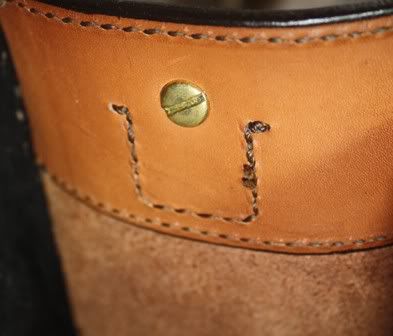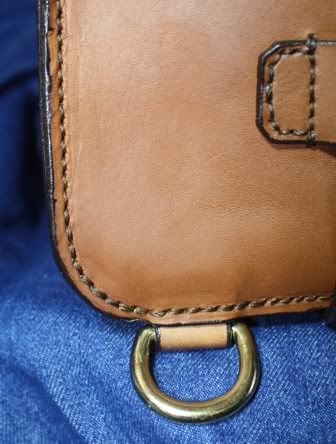 ---Back Pocket for quick access to newspapers, magazines, novels, airline tickets, whatever you need, whenever you need it.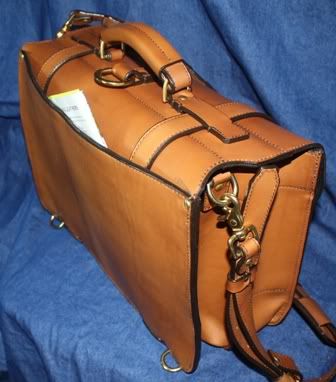 p>
---Two Thick Shoulder-Strap Pads have been designed with two layers of thick cowhide for strength, stability, and durability, and an internal layer of thick high-density neoprene for carrying comfort.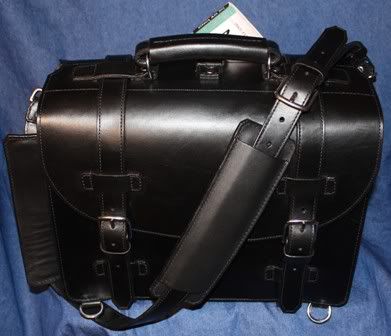 ---Rugged Shoulder Strap has been ergonomically crafted with two layers of full-grain cowhide to take up shock and displace the weight of the bag's contents throughout the length and width of the shoulder strap and two shoulder-strap pads. Most bags out there have weak, stretchy shoulder straps and pads that twist out of position and place the weight of the bag's contents uncomfortably and painfully on one point of the shoulder. A Walden Bag takes care of you every step of the way.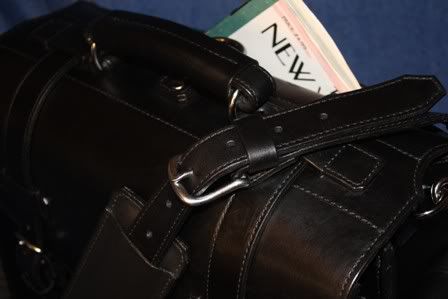 ---Thick cowhide has been conditioned with natural oils to bring out the leather's natural patina and replenish its natural water repellency.
---Thick gauge UV- and mildew-resistant saddle-stitching thread (more like a small rope) is used to ensure strength and durability for a lifetime of rugged use (cotton and nylon thread don't hold a candle to the bonded thread used to stitch a Walden Maverick: cotton has neither the tensile strength nor the abrasion resistance and nylon mildews and rots when exposed to the elements). All seam ends have been saddle stitched by hand. Heavy-use areas -- handle assembly, solid brass D-ring attachments, all six bottom corners (double saddle stitched by hand), all strap retainers -- are 100 percent saddle stitched by hand.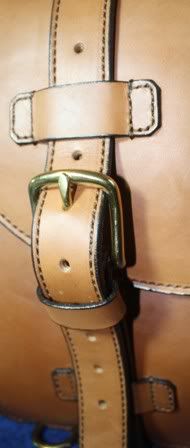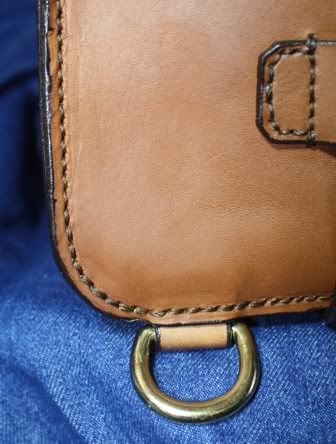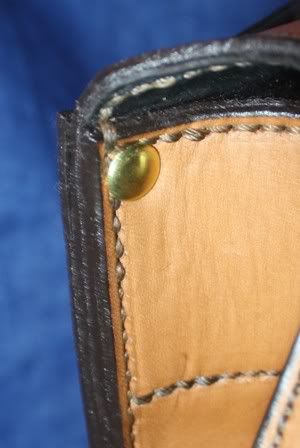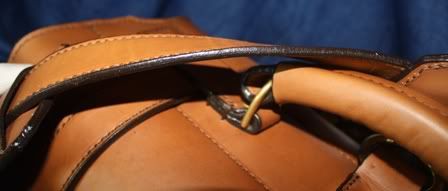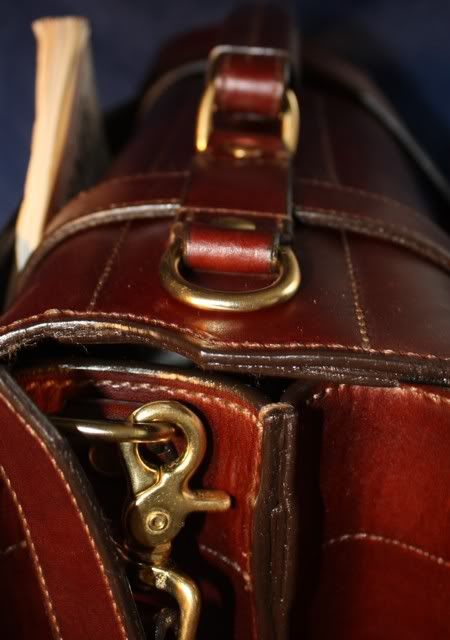 ---Heavy-Duty solid brass (natural or nickeled brass) hardware has been used for rivets, rings, swivel clips (natural brass or nickeled steel), and buckles, unlike many bags out there that use cheap hardware. If you've paid more than $350 for a leather bag, run your fingers over the buckles and rings. Is the buckle tongue so sharp that it will cut through a well-done steak, not to mention your clothing and skin, or does it have the soft, warm, buttery feel of solid brass? Do the rings on the bag feel thick and solid and well-balanced with the other metal hardware on the bag, or do they feel too thin and trinkety or too thick and needlessly bulky and heavy? Cheap bags use poor quality split rings and buckles that will never give you a solid, stable, sturdy feel when cinching or buckling a strap or carrying the things you need to get through the day or week. That's why you'll never see them on quality saddlery and harnesses, nor on a Walden Bag. At Walden Bags we obsess over such details to provide a well-balanced and well-functioning bag where features don't impose on one another but work together harmoniously.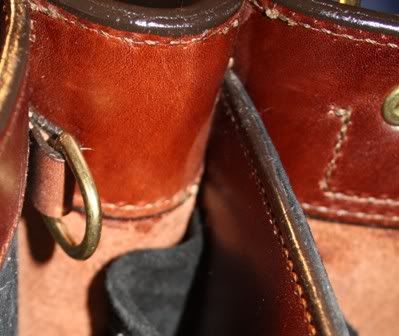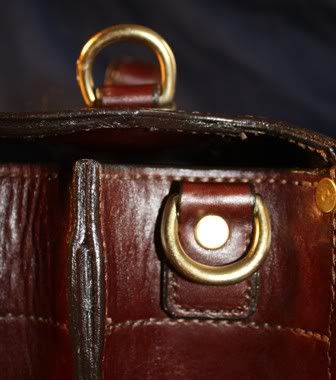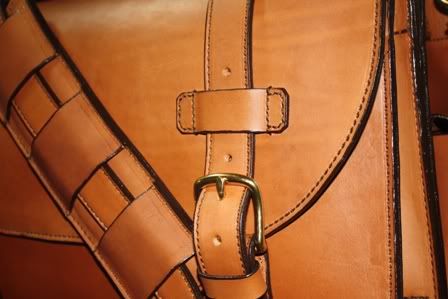 ---Double-Sided Solid Brass Rivets, when used, are used wherever both sides of a rivet are exposed, providing both strength and elegance. Cheaper bags out there use single-sided steel rivets that when exposed to the elements not only corrode and deteriorate the leather but also make the bag look as if it has been stapled together.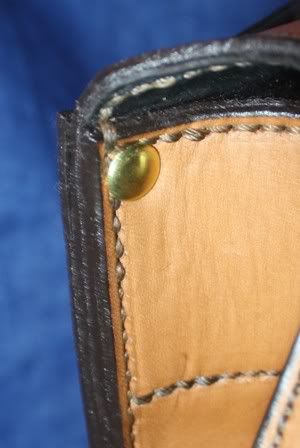 ---Exterior Side Pouch with closeable security flap for easy access to cell phones, PDAs, MP3 players, sunglasses, pens, etc.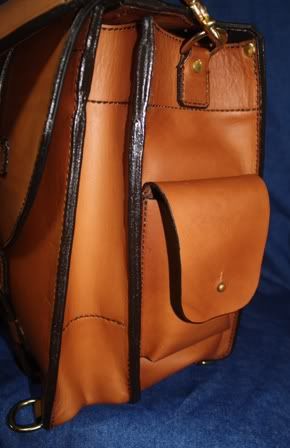 ---Four solid D-rings have been double hand saddle stitched in place near the four bottom corners of the bag. These solid brass D-rings can be used to lash items to the bottom of the bag: picnic blankets, parkas, shopping bags, water bottles, etc.
---Backpack Conversion: By running the shoulder strap through the O-ring at the top o the bag and clipping the ends to the two rear bottom D-rings, the Maverick is easily and quickly converted from a shoulder bag to a backpack.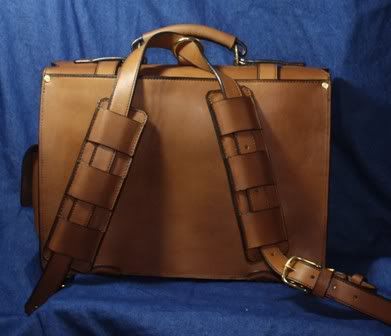 SIMPLICITY of DIMENSIONS
---Large Main Compartment: 17" Wide by 12" Tall by 5.25" Deep (but fills out to much more); plenty of room for a 17" laptop, books, change of clothes, whatever you need for a day or a weekend.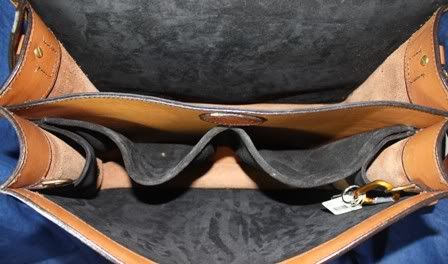 --- Large Pocketed Secondary Compartment: 17" Wide by 12" Tall by 4" Deep (but fills out to hold bottled water, lunch, an apple...)
---Two Large Internal Central Pockets for wallets, PDAs, CDs/DVDs, keys, music players, whatever you need to carry. These pockets are fully stitched, so that pens, styli, and other narrow objects will not fall through making you search for them on the bottom of the bag.
---Two Medium Internal Side Pockets big enough to carry items you need, such as pens, sunglasses, cell phones, energy bars, etc.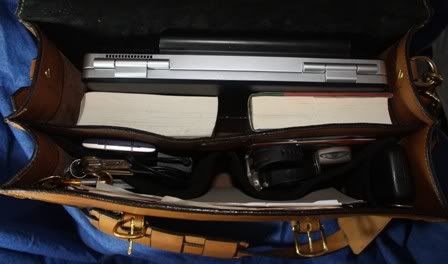 ADDITIONAL PICTURES OF THE MAVERICK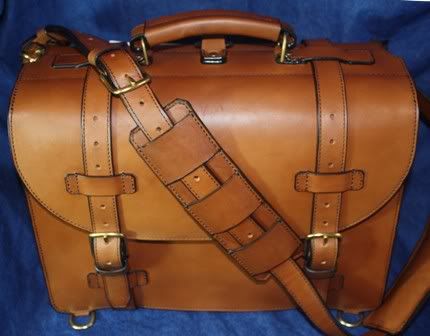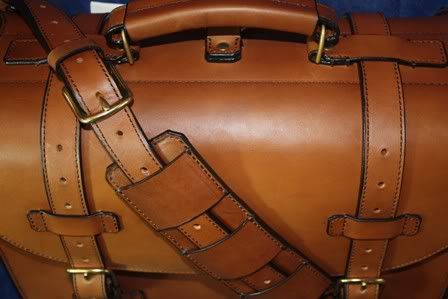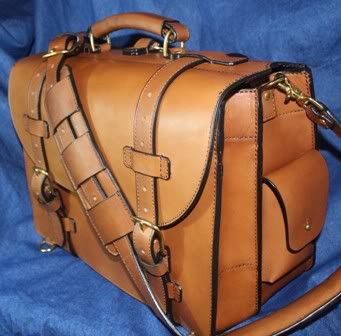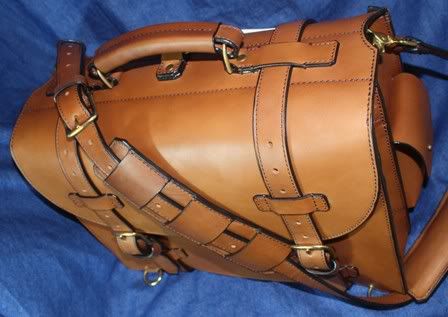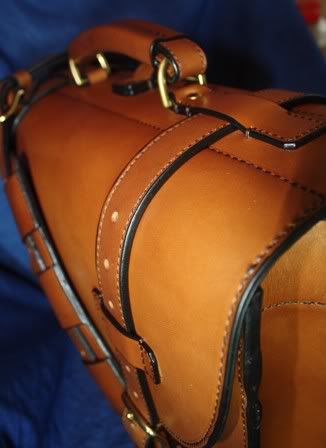 ADDITIONAL PICTURES OF THE AMBASSADOR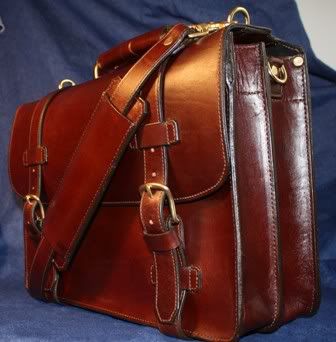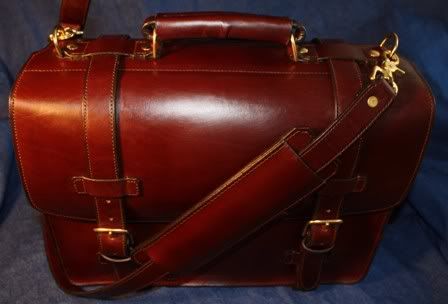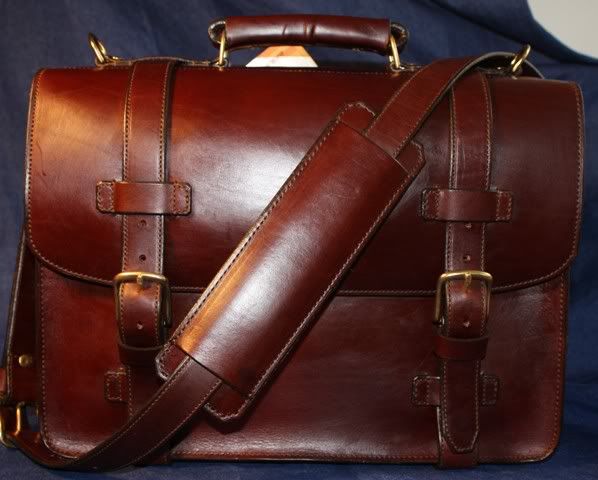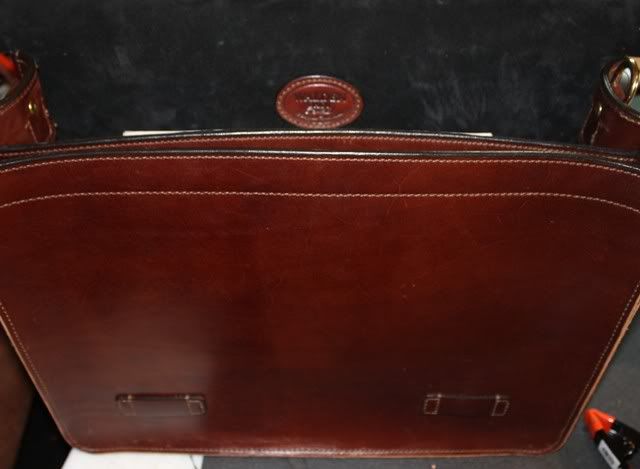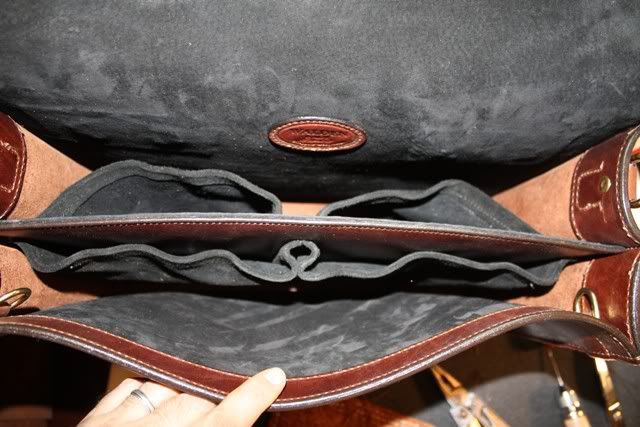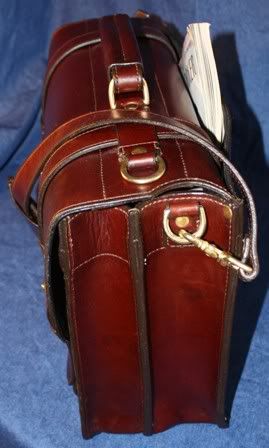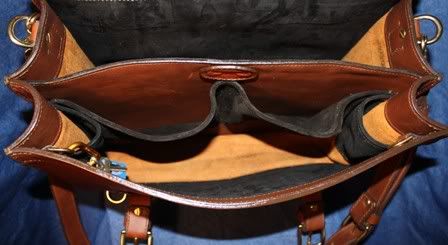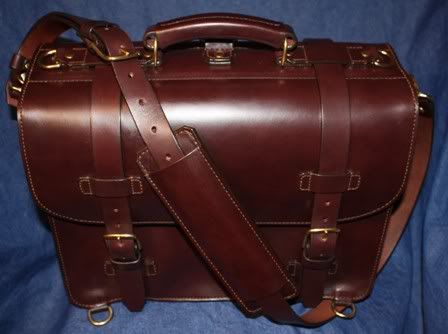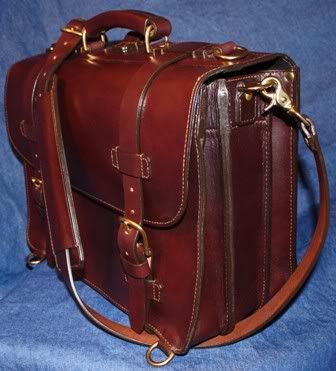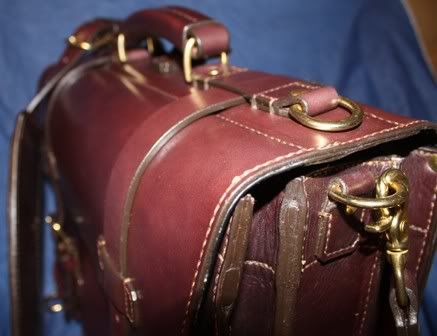 ADDITIONAL PICTURES OF THE DIPLOMAT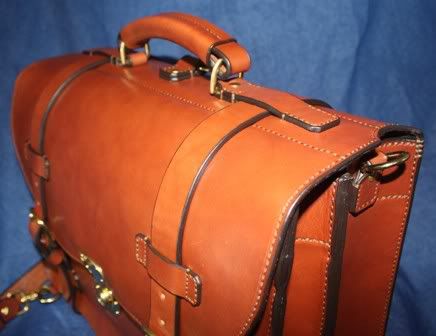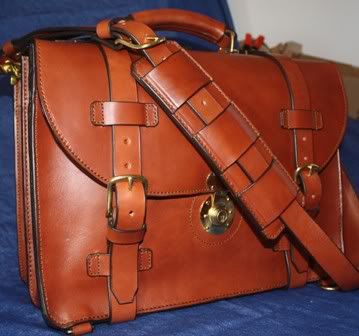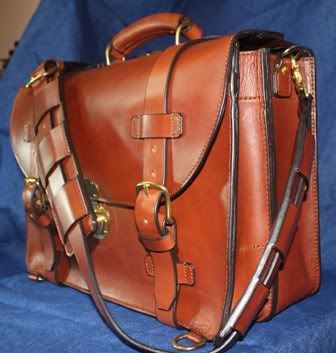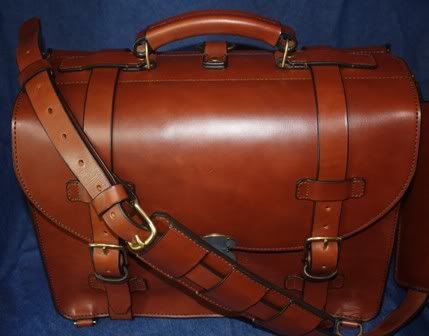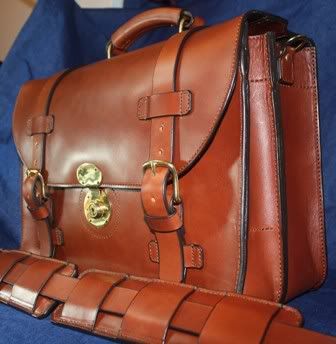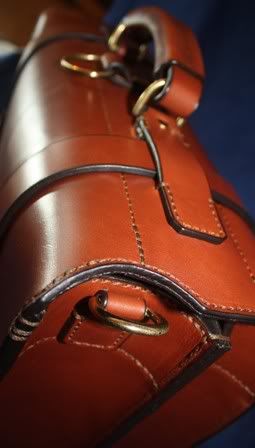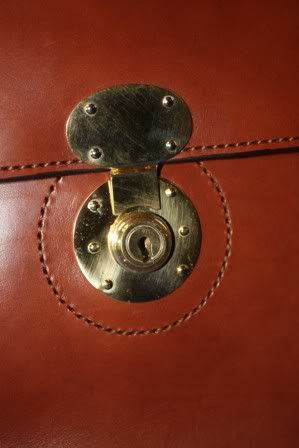 Whether you're a banker, dentist, teacher, doctor, lawyer, student, pilot, rock-star, poet laureate, journalist, dog walker, nurse, taxi driver, gingerbread maker, the Walden Briefcase/Satchel will bespeak the adventurer in you. And for a long, long time.
Your Satisfaction is 100% Guaranteed
If you are not satisfied with your Walden Bag for any reason, return it to us delivery confirmed and insured within 14 days in the same condition you received it and with all original packing material for a full refund minus shipping costs and any associated Ebay and PayPal listing and transaction fees.
In a disposable era rife with sound bites and image posturing, WALDEN BAGS is merging form and function to Keep It Real!
======================================================

Grant, Washington State:

Ed,

Maverick arrived in today's mail!

Was going to go over it with a fine toothed comb, but it broke the comb....

Ed, its a magnificent piece of work! You should be very proud of your endeavors and efforts for the simple reason that it is a wonderful union of function and aesthetics, as well as built to withstand the worst of conditions!

What I've been looking for is in your bag, and I know that my children's children will carry this bag with a great deal of pride and tradition...and I plan on carrying it to the far points of the planet and letting it prove its metal!

Did I say I was impressed? You worked your fingers off on this one, Ed, so sit back tonight with a good meal and your favorite drink, and be proud, because I sure am and I'd be damn proud and willing to offer any assistance and reference I can render.

The revolution of the 60's was really about your ideals...a return to integrity, expression, moral judgment, ethics, accountability, and pride in self based on true self-worth...and there are still artisans who're continuing their life's work with the same gusto and verve.

The same event happened in the late 1890's...a return to genuine ideals and love of ethical, rewarding work.

"Perfect" is in the eye of the creator, which for us lowly beings, is impossible, but well-worth attempting, and just like myself, and other artisans, I'm sure if you and I sat and discussed this bag, you'd point out issues you'd do differently, etc, but that's in your eye...my eye, the woodworker eye or the musician eye, which respects your craft and vision, and secretly wishes to be able to produce what you produce...so, we're really all the same!

You're doing fine, Ed, and I'm gonna advertise this piece of work of yours, not only to sell a few for you, but also to motivate the curious not to "accept mediocrity" in anything, anyone, or any cause. It's what I've taught my kids, who're now grown and very productive. Mediocrity and greed are the curse of the last and present century and I'm proud to own a piece of "statement", in the same way that Thoreau felt the need to make a "statement"...the cause is not lost or forgotten.

So use whatever you'd like from the email and feel free to pass on my email to anyone in doubt of your skills...I'll set 'em straight!

And, if we lose touch, it'll be on your account, because I'm very interested in seeing you do well and continue to set a standard for others to follow!

This next trip will be short, but I'm gonna expose your work to a couple of the "heavy-hitters" in government (State Dept and Dept of Defense) who, like me, go through luggage like candy.

I'll check in after this next trip to DC and VA and give you and update on the "shake-down" for this Maverick!

Thanks, Ed. You're an artist and true craftsman.

========================

Carey, Maryland:

Ed,

Thank you, again, for making such a great product of excellent quality and craftsmanship. I love this bag!

=========================

John:

Excellent item, very well made!

=========================

Ken:

Wonderful bag . . . thank you very, very much!

=======================

Michael, Australia:

Best Quality Bag On Ebay. Better Than Saddleback Bags. Nice Craftmanship. Fast Postage. A++

=============================== Patrick, North Carolina: Wow! Greatest bag I have ever owned. Rugged, handsome, and top quality. A++++++ =============================== Grant, Washington State: Ed, Just got back from my recent trip. The Maverick performed fantastic! I'd decided to use it as my only carry-on and give it a good "shakedown", so I packed it with a laptop, 2 hard drives in classified courier pouch, power supply, shaving kit, change of clothes, pipe case with 3 pipes and tobacco, HP calculator, sunglasses, 2 pair glasses, agenda book, legal notebook, book "Shadow Warrior" by Felix Rodriguez, and mini umbrella...weighed in around 32 pounds! Everything held up really well and stored under the seat comfortably. Its one of the best investments I've made and I'm sure its going to outlive me and probably my sons, as well! Thanks for all your hard work. You build a remarkable product. One of my favorite comments I received during the trip was from a Diplomatic Security Service courier who said, "Now THAT'S a bag!" I felt compelled to pass on your information. Take care and best of luck. I'll advertise this Maverick as often as possible! =============================== Hello Ed:

The bag arrived today. It is just as pictured and described -- it is exactly what I've been looking for and I am anticipating many years of use both for my job and travel. I should mention that my 90-year-old mother-in-law, a woman known both for her candor and her exceptional standards, was very impressed with the bag. She noticed the quality of the bag as she ran her hands along the seams and commented on how the suede lining was something one didn't see even in the better mass-produced bags. She stated that it was clearly the work of a skilled craftsman. That is no mean praise, I assure you. I very much appreciate your patience with my inquiries and wish you every success in your work. Sincerely, --Michael

===============================
===============================
===============================


Currently available bags are frequently available at Etsy.com

Thank you for your interest in a Walden Bag. I am usually working on commissioned bags. When no commissioned bags are in the works, I work on bags to be listed on Ebay and Etsy.com.

Commissioned bags start at $1,400 for a 17" x 12" Maverick or Ambassador of oiled chrome tanned leather. Prices are $400 to $500 higher for vegetable tanned, latigo, and bridle leathers. 18" bags are available on special request for an additional $200. A three-gusset bag with a padded laptop compartment is also available for an additional $200. Solid brass (+$150) and nickel (+$200) locks imported from England are also available.

I do try to finish commissioned orders as soon as possible, as they do become the highest priority for my time. Currently, the completion and delivery time is between 8 and 12 weeks. When no other orders are pending, the normal completion and delivery times are between 4 and 6 weeks.

To reserve a place in the production schedule and allow me to begin construction on your Maverick or Ambassador as soon as possible, I ask for a 50 percent deposit, with the balance payable upon your approval of the completed bag.

***NOTE: I have temporarily moved my workshop abroad. Due to international shipping restrictions, shipping to the USA and Canada must be by either UPS or Fed EX at a cost of approximately $400. Shipping to Europe, Australia, and Asia will be by regular post.